Introducing BETMIX 2.0 - The best handicapping software available
We've made some major changes to Betmix.com and are anxious to share them with you. The site has been completely redesigned, and there are many new features to help you handicap with greater accuracy.  Here are just a few of the new features we have added...
New Factors, new sliders
We have added several new factors (Speed Last Race, Win %, In the money %, Last Purse, Avg Last 3 Purses, Trainer Jockey Combo win % and Trainer Jock ROI).  In the old version of Betmix, the sliders had to be "turned on", they are now "on" by default but will only be used in calculations when they have a value.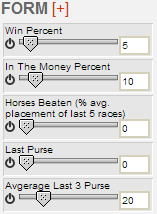 We also made major changes to our database structure that will allow us to easily add new factors (we will be adding more soon!) and create new and exciting analysis tools.
New Tools



Winning Factors allows you to find all the previous wins in our database for a particular horse and instantly compares that winning effort to today's race.  You can quickly see if today's race sets up in a similar way to the last race the horse won.
Your Mix displays all of the factors you have chosen in a pie chart and provides you with a simple graphic explanation of how the computer is interpreting your mix. By mousing over each pie slice you can see the percentage for each factor and the total number of points you have assigned.
Overall Rankings can now be seen on the main screen as well as by hitting the RANKINGS button so that you can get an instant read on how the horses stack up.
Improved MixMaker



 
We have greatly improved the artificial intelligence behind MixMaker.  Now you can choose to create a mix that puts an emphasis on finding the winner or choose to create a mix that finds the trifecta. The accuracy of MixMaker is much better now, as it has the ability to consider all possible factors in any given race.