North American racing is slowly beginning to stir from its forced slumber and that means the stunted juvenile racing season will start to bloom as well.
We published our survey of 2019 juvenile sires in late December and that results chart is posted again here:
2019 Juvenile Sire Survey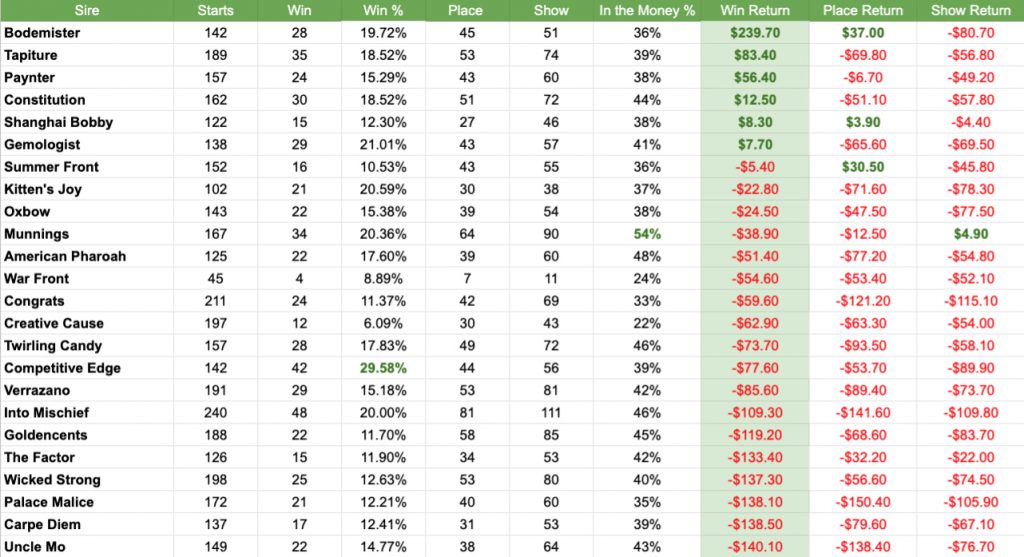 We went a step further this time to add more data to the juvenile handicapping arsenal. For qualifying sires (with more than one crop) we went back to the begining of 2018 and mined the Betmix Angler online handicapping database for a two-year picture:
Juvenile Sires by Win Return (2018 & 2019)

Paynter's outrageous Win Return has been buoyed by Knicks Go, the 70-1 winner of the 2018 Breeders' Futurity at Keeneland. But he's more than just a one-hit wonder as half of his 48 juvenile winners over the past two seasons have paid double digits.
Juvenile Sires by Win % (2018 & 2019)
Sire progeny percentages can also be useful when selecting contenders in juvenile heats. Munnings and Into Mischief are the stallions that stick out in this regard. Both sired 18% juvenile winners/starters in 2018 & 2019 with Into Mischief topping our sample with a 47% In The Money rate.