There are over 60 North American Grade 1 races set for the last five months of 2018, including signature events at the Saratoga, Del Mar, Arlington and Keeneland Fall meetings. So what better time to look at how the progeny of North America's top sires have fared in races at the highest level. The charts below show the progeny performances of the Top 25 sires on the 2018 General Sires list with a minimum of 35 Grade 1 starters since January 1, 2012.
Quality Road has rocketed to elite sire status over the past 18 months and his progeny have helped handicappers as well as owners and breeders. The Lane's End Farm stallion is the current leader with four Grade 1 winners in 2018 and his progeny rank first by Grade 1 Win % (26%) and In the Money % (56%). His success for bettors is further accentuated by his robust Win Return of $100.90 that ranks second only to Medgalia d'Oro (whose figure is boosted tremendously by last year's 66-1 Breeders' Cup F & M Sprint heroine Bar of Gold).
Harlan's Holiday is also worth a mention as his sons and daughters are winless in Grade 1 competition over the past 4-plus years. That's a bit of surprise for the sire of previous standouts like Into Mischief, Majesticperfection and Eclipse Champion Shanghai Bobby. The late sire's last crop are 4-year-olds of 2018.
To search Betmix Angler for sire progeny data for any race type:
Open Betmix Angler>Set Race Conditions>Click Expand Horses & Sires>Type in Sire Name>Click Search>Click Off Box>Click Start Search Button
Grade 1 Sires by Win % (all surfaces, minimum 35 G1 starters since January 1, 2012)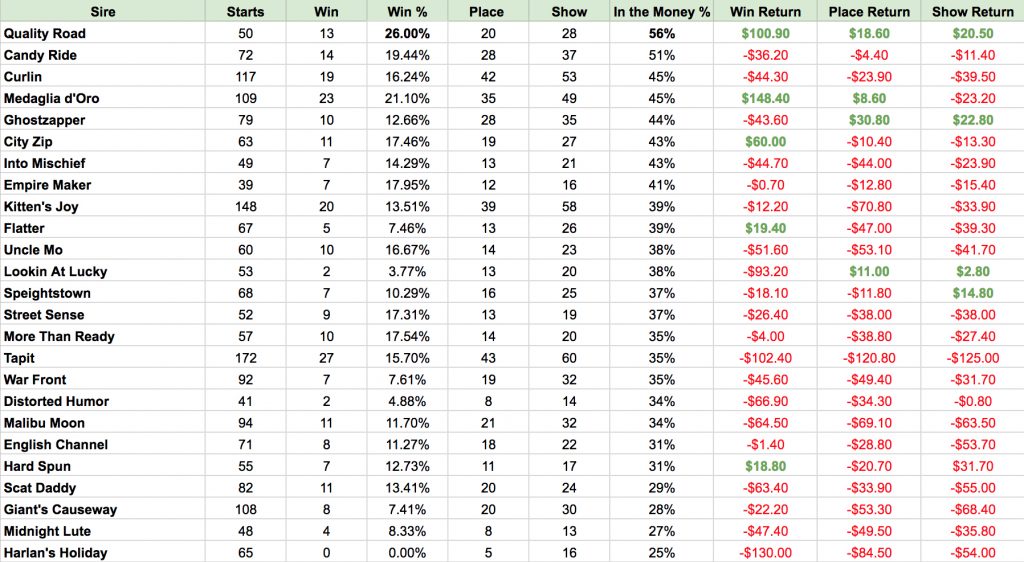 Grade 1 Sires by Win Return (all surfaces, minimum 35 G1 starters since January 1, 2012)