Bear Fan S. at Golden Gate Fields
6F on All Weather (December 11)
Horse Racing Data Analyzed: Last 46 6-furlong main track stakes at Golden Gate
Date Range: January 1, 2012 - Present
Sharp Angle: Ranked 1st Avg. of Last 3 Late Pace
Factor Stats: 49 contenders, 15 winners (30%) $82.60 Win Return, (184 ROI%), 18 Place (36%), 30 Show (61%).
A baker´´´ s dozen will line up in Saturday´´ s featured Bear Fan Stakes at Golden Gate. It´ s not a stretch to say that 13-horses fields are inherently challenging for handicappers. Luckily, the Betmix Angler online handicapping database is here to help.
Angler tells us that Average of Last 3 Late Pace has been a predictive handicapping factor in the 6-furlong main track stakes at the Northern California oval. Horses ranking first in this factor have scored 30% of the time while generating a whopping Win Return of $82.60.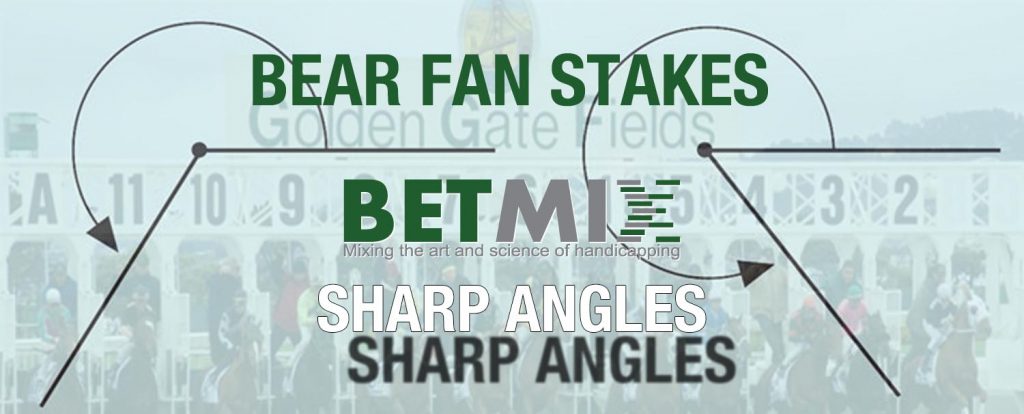 Find this race in Betmix Birddog and use the 1st Avg. of Last 3 Late Pace slider to see which horse ranks first in this factor. That's the Sharp Angles play.
Want to look for your own Angles using Betmix handicapping software?
Click for the Betmix Angler tutorial
Click to subscribe to Betmix