Ladies Sprint & Franklin-Simpson S. at Kentucky Downs
6.5F on Turf (September 10, 2022)
Horse Racing Data Analyzed: Last 9 6.5-furlong graded stakes at Kentucky Downs
Date Range: January 1, 2012 - Present
Sharp Angle: Ranked 1st Avg. Best 2 of Last 3 Speed
Factor Stats: 10 contenders, 5 winners (50%, $30.60 Win Return, 253 ROI%), 5 Place/Show (50%) $5.60 Place Return
The Saturday card at Kentucky Downs features 6 stakes, including a pair of the Ladies Sprint & the Franklin-Simpson, both at 6.5 furlongs.
The Betmix Angler online handicapping database holds a wealth of data on races at the European-style course and we ran a query looking for positive handicapping factors for the 6.5-furlong graded events. As usual the database didn't disappoint and revealed that horses ranking first in Avg. Best 2 of Last 3 Speed have won scored half the time while generating a $30.60 Win Return.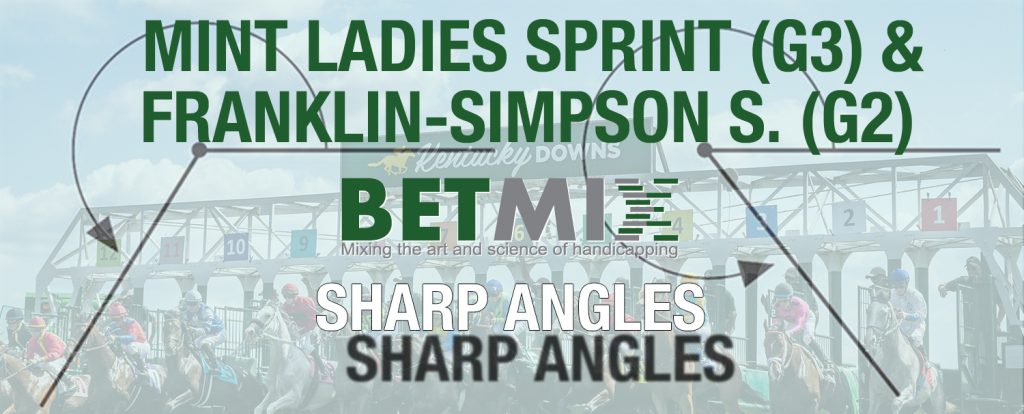 Find this race in Betmix Birddog and use the Avg. Best 2 of Last 3 Speed slider to see which horse ranks first in this factor. That's the Sharp Angles play.
Want to look for your own Angles using Betmix handicapping software?
Click for the Betmix Angler tutorial
Click to subscribe to Betmix