The new Betmix Past Performances are not only printable they provide a wealth of summarized data that can be used to easily point out logical contenders and potential longshot plays.
The Saturday card at Tampa Bay Downs provided some good examples of the effectiveness of these innovative new PP's.
The winner of the 5th race was the $18.80 Allie's Event and it took just a few seconds time with the Betmix PP's to see that the 6yo son of Wild Event was a major player. After the 11 horse scratched, Allie's Event ranked first in the top four Factors most important in middle distance turf allowance contests at the Oldsmar, Florida track.
The Quick Handicapping box also show Allie's Event on top in five of six categories (again after taking out the 11 horse).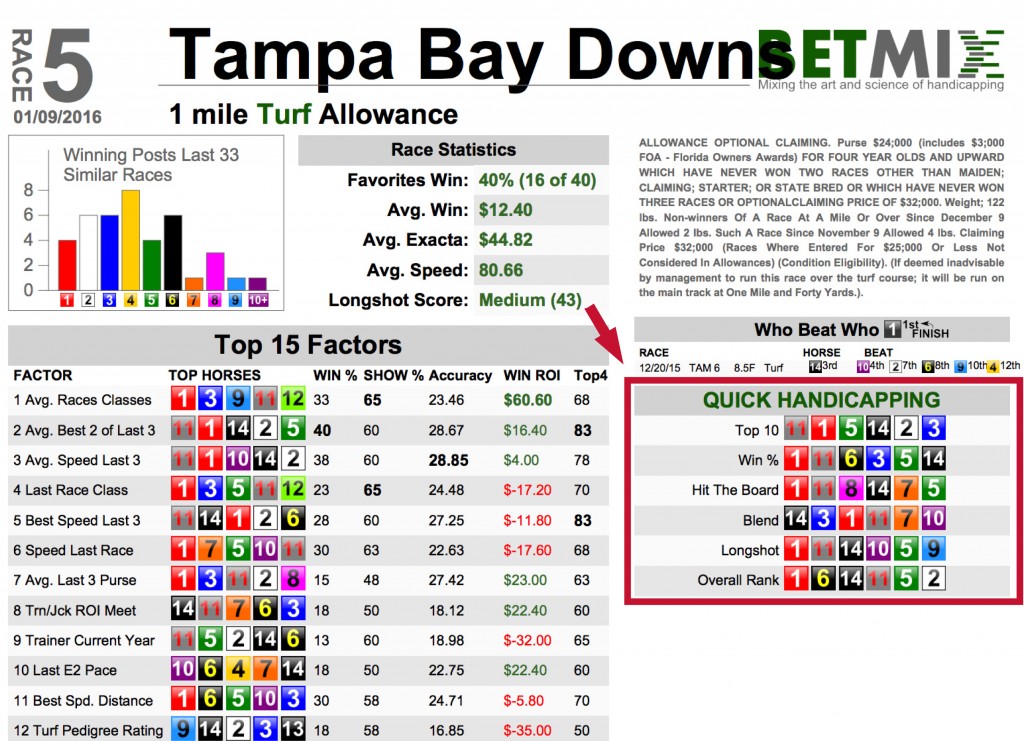 Saturday's 7th at Tampa is a good illustration of the new 'Who Beat Who' feature. The betting public sent Lox (#3) postward as the odds-on choice in the 8.5 furlong Maiden Claimer on the main track. But Bexmix PP users were immediately aware that American Merlot (#7) finished ahead of Lox in their last meeting on December 18. American Merlot won by a neck on Saturday at a $14.60 win mutuel, keying a $33.40 exacta with Lox.