Legendary late 19th/early 20th-century horse player George Elsworth Smith, aka Pittsburgh Phil, is known for pioneering many important thoroughbred handicapping concepts. And a good many of those are just as relevant today as they were when all the men wore top hats and overcoats.
"Successful handicappers know every detail in regard to the horses upon which they are intending to place their money."
Betmix was essentially founded on this principle - to bring greater, often hidden, detail to the modern horse player. When 'Phil' first uttered those words over 100 years ago there was a decided lack of information available on the equine contestants of the day. In 2015 we not only have a wealth of data at our disposal but the computing power to parse it new and powerful ways.
The state-of-the-art Betmix software analyzes results from thousands of races to isolate the typical winning factors for a specific race type. For example, we now know that in one mile Allowance contests at Churchill Downs the horse with the highest Average Lifetime Earnings has won 35% of the time producing a win bet ROI of $8.00. With a few clicks and movement of the Betmix sliders you can find out which horse ranks best in this factor in the next race of this class and distance under the Twin Spires.
That's just one example so things can quickly head into information overload territory. That's why we've been introducing new ways to organize and present the available data making it easier for Betmix users to search out winning plays.
The most innovative of these new features is Command Center. This recently introduced page shows all the days North American races on single, sortable interface. Looking for races that tend to produce longshots? Sort by Avg. Win Payout to immediately isolate races that are often captured by high-priced winners. Or maybe you need a safe play to ice a lead in a handicapping tournament. Sorting by Hit the Board score quickly points out races with a single contender most likely to make the top three.
To take advantage of the full power of Betmix, just click anywhere on a race line to open the Mix Maxer/Race Profile interface for that race.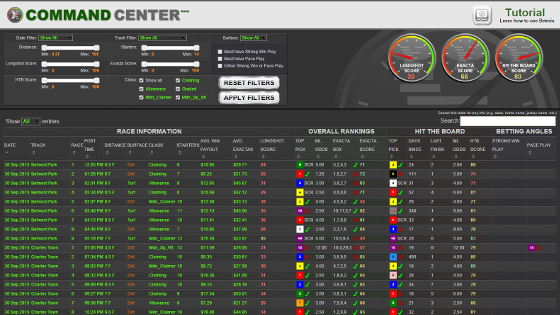 "If there are two or three very fast horses in a race one or two of them will quit before the end of the journey."
'Phil' was on top of race shape long before 'pace makes the race' joined the handicapping vernacular. With Betmix it's easy to check the possible pace scenarios in a given race. There are eight factors related to pace that can be quickly weighted with the Betmix sliders. A good way to check on potential early pace is to slide Avg of Last 3 E1 Pace over to see if a horse is shown to have a big early pace advantage. Conversely, you may find two or more horses are likely to scramble for the early lead. In the case of the latter, the Avg of Last 3 Late Pace or Avg of Last 3 Turn Time sliders come in handy to isolate who's likely to be running fastest of all in the later stages of the race.
"The basis of all speculation is the amount of profit to be obtained on an investment."
2015 translation: insist on value. On the Race Profile page, each factor also has Win, Place and Show return on investment (ROI) figures shown. For example, in the visual below Avg. Speed Last 3 not only wins 44% of the time in this race type it's also been yielding a Win ROI of $28.40 (for a $2 bet). The Race Profile can be sorted by Win % and the ROI columns to instantly see which factors win most often and if they tend to produce payouts worth going after.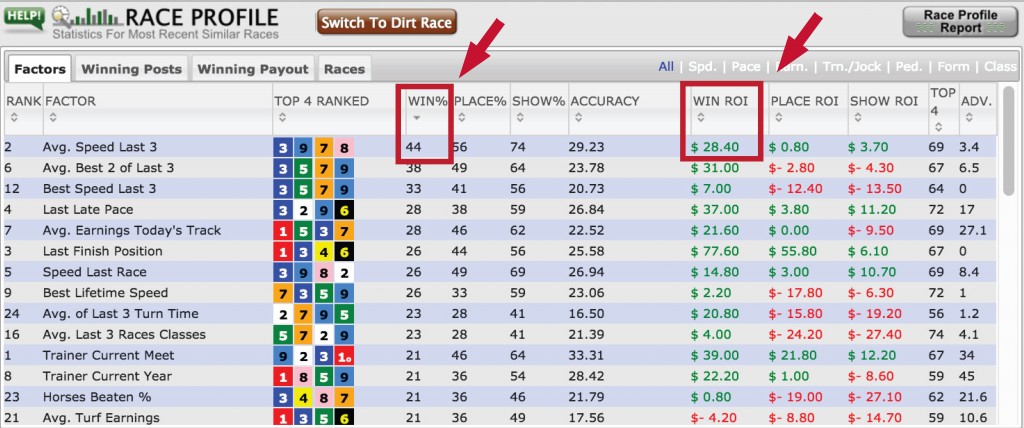 Pittsburgh Phil passed away in 1909 with a reported $3.2 million in the bank. One has to wonder what that account would have looked like if Betmix were around in those days.