Fourstardave S. (G1) at Saratoga
8F on Turf (August 14)
Horse Racing Data Analyzed: Last 16 one-mile graded turf stakes at Saratoga
Date Range: January 1, 2012 - Present
Sharp Angle: Ranked 1st Avg. Last 3 E2 Pace
Factor Stats: 17 contenders, 6 winners (35%, $31.90 Win Return, 192 ROI%), 6 Place (35%), 7 show (41%)
A trio of Grade 1 winners square off against 5 other Graded winners in Saturday's renewal of the Fourstardave S. (G1) at Saratoga.
The Betmix Angler online handicapping database was built to help separate the contenders from the pretenders evenly matched fields like this one. A query reveals that the Avg. Last 3 E2 Pace handicapping factor has pointed to 35% winners of the recent 8-furlong grassy graded stakes at The Spa. These winners have rewarded their backers with a sterling $31.50 Win Return.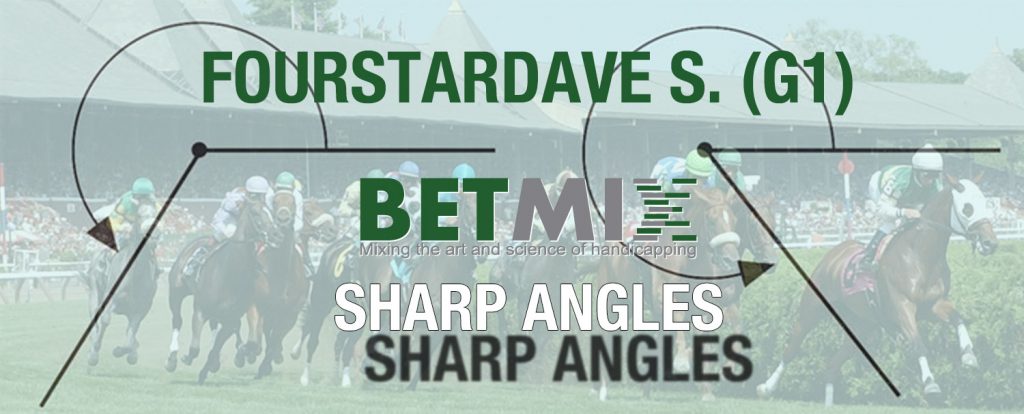 Find this race in Betmix Birddog and use the Avg. Last 3 E2 Pace slider to see which horse ranks first in this factor. That's the Sharp Angles play.
Want to look for your own Angles using Betmix handicapping software?
Click for the Betmix Angler tutorial
Click to subscribe to Betmix