Pegasus World Cup Turf (G1)
9F on Turf (January 29)
Horse Racing Data Analyzed: Last 23 8-furlong turf graded stakes at Gulfstream Park
Date Range: January 1, 2012 - Present
Sharp Angle: Ranked 1st Avg. of Last 3 E2 Pace
Factor Stats: 24 contenders, 7 winners (29%) $87.40 Win Return, (282 ROI%), 8 Place (33%) $4.50 Place Return, 12 Show (50%)
The Pegasus World Cup card at Gulfstream Park. has very quickly become the highlight of winter racing for many horseplayers in North America. The card took another leap in 2019 when the Pegasus Turf was added and this year´ s fourth edition of the race (formerly named Gulfstream Park Turf H.) has drawn a predictably deep and contentious field.
Deep and contentious fields are exactly what the Betmix Angler online handicapping database was built for. A scan of the database has revealed that the Avg. of Last 3 Late Pace has been predictive and profitable for big data handicappers. Angler tells us that the hottest trainers have had and edge in these 6-furlong non-graded stakes at Oaklawn.
Nearly 30% of the contenders ranking first in this factor have had their pictures taken while generating a whopping $87.40 Win Return.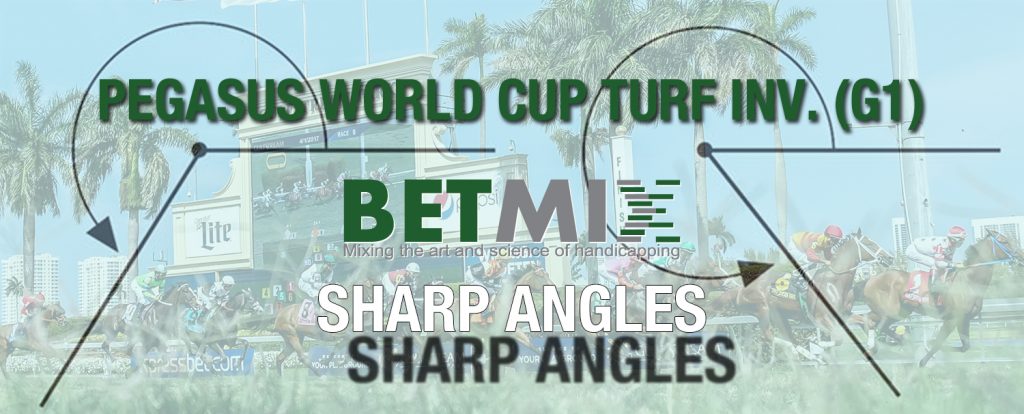 Find this race in Betmix Birddog and use the Avg. of Last 3 Late Pace slider to see which horse ranks first in this factor. That's the Sharp Angles play.
Want to look for your own Angles using Betmix handicapping software?
Click for the Betmix Angler tutorial
Click to subscribe to Betmix